Australian High Commission Embassy in Nairobi selects Kordon Termite System
We are proud to share the news that its Kordon Termite System was selected as the product installed to the new Australian Embassy in Nairobi, Kenya.
Print page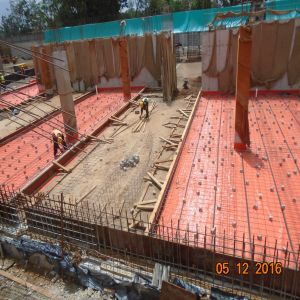 The Architects for this project is James Cubitt Architects, Spring Hill, in Brisbane and the building contractor is Parbat Seyani Contractors in Nairobi. Site inspections and reports by Howard Humphries (East Africa) – Ltd.
A full under-slab installation using Kordon was chosen. This meant the Kordon was acting as a termite barrier and also a vapour barrier. In the photograph, the slabs with Kordon installed are ready for the concrete pour. The other sections will be formed up later and Kordon installed prior to the pour.
It was decided the installation be carried out by the building company after many video conferences with the architects, building company officers and Neville Hedge, National Kordon Training Manager. This enabled the contractor to have a clear understanding of the installation process after viewing and discussing all stages of similar installations carried out in Australia. Work Place Health and Safety issues were addressed during these discussions.