Maxforce Fusion Cockroach Gel
It's the beading that keeps them feeding! envu's new Maxforce® Fusion Cockroach Gel with TLC technology – Small beads. Big impact.
Envu has just launched its new and innovative Maxforce® Fusion Cockroach Gel. Maxforce Fusion is the next generation gel against cockroaches, both large and small. Maxforce Fusion includes for the first time a patented fusion technology known as TLC control (Total Life Cycle Control), incorporating a feeding stimulant and capsule technology within the gel matrix (blue beads).
Jeff Einam, Technical and Regulatory Affairs Manager at Envu, said: "This unique feeding stimulant has been proven to dramatically decrease the percentage of nymphs in the population. The reduction is due to an increased direct consumption of bait by nymphs, resulting in a long-term inability for populations to recover."
"Maxforce Fusion delivers exceptional palatability for nymphs ensuring total life cycle control," he continued. "Professional Pest Managers should apply Maxforce Fusion where the presence of nymphs is confirmed."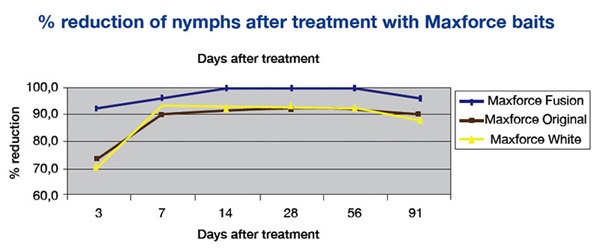 Trial data (where only gel was used to control populations) indicates that only three days after treatment there will be a reduction in nymphs by more than 90 per cent; after 14 days 100 per cent reduction is achieved, Jeff added."This is truly revolutionary as nymphs don't normally feed in any significant numbers yet make up to 75 per cent of the total pest problem."
Recommended Use of Maxforce Gels

Category

Sub-Category

Envu Product Positioning

Recommended Envu Cockroach Gel

ALL Situations

All

Wherever the presence of nymphs is confirmed.

Maxforce Fusion




Commercial Accounts

Initial

Product Application to new accounts to control existing pest problem. Initial proposal accepted. Once control is at a desired level, service reverts to a maintenance cycle. Products to be moderate to fast in action to gain trust with account.

Maxforce Fusion

Maxforce Gold

Maintenance

Much inspection. Product to prevent cockroaches from building up in numbers. Speed of kill not important but life on surfaces to achieve lasting control important. Consumed product topped up on a regular basis therefore product needs to be economical to use.

Maxforce Fusion

Emergency

Cleanout

Ad hoc service. Brief determination of issue and immediate treatment. Fast knockdown of population required before a long-term plan is put in place. Treatment is as a result of a program failure either by the current or replacement service provider.

Maxforce Gold

Domestic Accounts

All

Annual service to varying levels of pest pressure. Product to be moderate to fast in action and long lasting on surfaces but importantly highest level of overall control to prevent risk of reinfestation and thus call-backs.

Maxforce Fusion
Jeff said: "Trial data also indicated a higher consumption rate of Maxforce Fusion (active ingredient imidacloprid) compared to Maxforce White (imidacloprid). However, it is important to rotate with other gel baits which use other active ingredients, such as Maxforce Gold (active ingredient fipronil), to avoid resistance development."

Maxforce Fusion targets German, American, Australian and Oriental cockroaches, including nymphs. Only one to two spots x 5 mm diameter are needed to treat small cockroaches; and two to three spots x 5 mm diameter to treat large cockroaches. "Maxforce Fusion is smooth flowing, which allows easy spot size management," Jeff added.
Maxforce Fusion with TLC Technology is available now at all distributor outlets. Visit environmentalscience.envu.com.au to download the Label or SDS. To register for the Envu Program visit envuamplify.com.au or for Technical Enquiries please contact 1800 804 479.
To find out more information, reach out to our team.
Always read the label before use.
Back to Articles